Solutions
Smart Citizen Services Dashboard
Take advantage of all the data about your city. Use the bciti+ dashboard to view important city service statistics for each team in your city.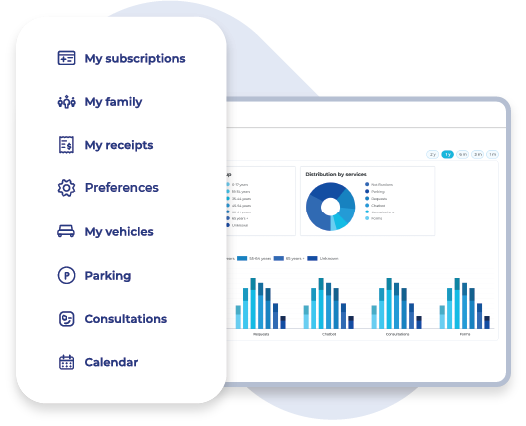 Why cities need bciti+ dashboard
In the context of Citizen Smart Services, the bciti+ Dashboard can help cities collect a wealth of data to anticipate citizen's needs and foresee multiple situations to proactively make informed decisions. It allows cities to monitor and analyze integrated data coming from siloed systems to make faster and more accurate decisions.
In an ever-changing world marked by an increase in natural disasters due to climate change, pandemics, and exponential urban population growth, the use of a dashboard that ethically captures and analyzes data is now essential.
What is the bciti+ dashboard?
The bciti+ dashboard organizes and presents key Smart Citizen Services data from enrollment numbers, service subscriptions, smart parking transactions, number of requests by category, anticipation of citizen needs, etc. City administrators can optimize the management of their city and improve the daily lives of citizens.

Collect data from multiple sources
bciti+ is an interoperable Smart Citizen Services Platform with a specialized library for developing smart city system connectors. These citizen service systems range from libraries, rentals, applications, IoT and telemetry systems, to utilities such as open data electricity, hospital wait times and more.

Manage data ethically
bciti+ helps cities to avoid the risk of data becoming identifiable if they do not require it and to implement / maintain appropriate security and data management certifications such as SOC 2, PCI, etc. It also invests in innovation and implementation of smart technology contracts to be the benchmark for secure citizen identification.

Present data in a meaningful way
bciti+ chooses significant indicators that inform as much as possible and guide cities in the actions to be taken. The platform also offers the possibility to integrate visualization and analysis tools.