Solutions
bciti+ Citizen Relation Management
Stay in touch with your citizens, seamlessly, at all times.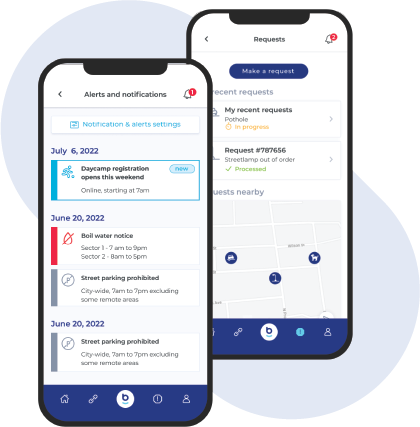 bciti+ primary services to connect the cities to their citizens
All hyperlocal information relevant to the daily life of citizens at their fingertips

Status of services
Help your citizens remember local waste and recycling collection schedule, hyperlocal services and get personalized information.
City news and cultural events
Help your citizens discover your city and stimulate cultural and economic development.
Alerts and Notifications
Be connected to your citizens and reach them using their preferred means of communication (emails, sms, push notifications and automated voice).

Efficient management of your citizens' requests
Instantly receive and manage requests from your citizens, whether it's a report of a problem or a request for information.

Calender
Provide access to an overview of cultural and municipal activities through an events calendar.

Instant digital consultation with your citizens
With a unified, comprehensive, accessible and centralized view of your community, you can develop and maintain meaningful and lasting relationships with your citizens.

Invitation to discover your city and its hyperlocal activities
Quickly and easily plan your city's activities and inform your citizens. Create an active community and get your citizens to discover the city and its special features.

bciti+ Zone : urban services
Offer access to an unlimited number of services, hyperlink to business system services, and enable SSO integration for greater fluidity.